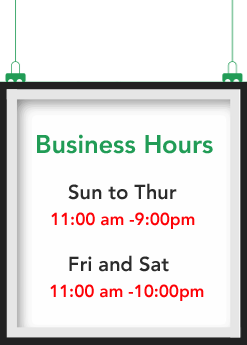 Our Business Hours - Sunday to Thursday 11:00 am to 09:00 pm - Friday and Saturday 11:00 am to 10:00 pm
14" Medium (8 Slices will feed 2 -3 people)
18" Large (8 Slices will feed 3 - 4 people)
The Last honest Large
Minimum delivery order $25.00
Delivery fee: $6.00
All Day Special (2 slices & soda)
$9.27
Cheese Pie

$14.99 - $18.99

Our traditional New York Pie

Big Apple Deluxe

$19.99 - $24.99

Pepperoni, sausage, bell peppers, mushrooms onions, black olives

The Manhattan

$19.50 - $24.50

Meatball, sausage, pepperoni

Central Park (Veggie)

$19.50 - $24.50

Spinach, mushroom, bell peppers, onions

Margherita (No Sauce)

$18.99 - $23.99

Sliced tomatoes, garlic, fresh basil

White Pie

$18.99 - $22.99

Ricotta cheese, grated parmesan, mozzarella, garlic

Arnold's Special

$19.50 - $24.50

Spinach, artichoke, pesto, mozzarella, tomato sauce

Buffalo Chicken Pie

$19.50 - $24.50

Spicy buffalo sauce, grilled chicken, mozzarella cheese

B.B.Q. Chicken Pie

$19.50 - $24.50

BBQ sauce, grilled chicken, mozzarella cheese

Pesto Pie

$17.50 - $21.50

Mozzarella cheese, grated parmesan, pesto sauce

House Signature Pie

$19.99 - $24.99

Marinated artichoke, mozzarella, pesto, and a touch of Marinara sauce

Hawaiian Pie

$18.50 - $23.50

Ham and pineapples

Mix and Match Large

$24.95

Skip the wait! Go for variety!

Choose any 8 of our gourmet slices.

Gluten Free Pizza

$16.50

(14" feeds 2 to 3 )

*We are not responsible for cross contamination for gluten free
Custom Pies.....
The choice is yours!
Just start with our medium or large cheese pie at the top of the menu and add any of these:
Toppings
Meatball, Sausage, Pepperoni, Ham, Mushroom, Onion, Jalapeño, Bell Pepper,
Black Olives, Fresh Tomato, Artichoke Hearts, Spinach, Pineapple, Pesto,
Anchovies, Garlic, Ricotta Cheese, Extra Cheese
Per Topping $1.50 - $2.00
Chicken Topping $2.25 - $3.00
Choose from 12 different varieties in our slice display case. Our slice of pies are baked once before they are put on display, and then after choosing your slices, they are rapidly baked a second time in about 600 degree stove oven. This double baked produces a delicious crispy slice that New Yorkers have been enjoying for decades!
All Other Speciality Slices

$3.71

All Day Special

$9.27

2 slices & soda

Gluten Free Available Pre Slice

$3.71
When you get home, turn on the oven to 450 degrees and put your pizza either on a cookie sheet or a pizza stone for about 3 to 4 minutes and it will crisp right up for you.
We reserve the right to refuse service to anyone. Menu prices may change without notice.
Calzone

$9.50

Ricotta, mozzarella, grated parmesan Add toppings for .50 per topping

Stromboli

$9.95

Ham, salami, pepperoni, bell peppers, mozzarella

Spinach Roll

$9.95

Spinach, ricotta cheese, mozzarella cheese

Sausage Roll

$9.95

Italian sausage and green bell pepper
Sodas

$2.32

Pepsi, Diet Pepsi, Dr. Pepper, Root Beer, Sierra Mist, Lemonade, Iced Tea.... Free in-house refills

Freshly Brewed Iced Tea

$2.32

2 Liters Coke / Diet Coke / Sprite

$5.49
Only Pick Up or Delivery
Prices do not include California Sales Tax.
Rocky Road Brownie (Family Size)

2 for $5.95
Choose From, Italian, Ranch, Caesar Dressing, Blue Cheese, Balsamic Vinaigrette.
REGULAR is big enough for 1 and good enough to share between 2. Party Salad feeds 8 - 10
Caesar Salad
Regular
Party
Romaine lettuce, croutons and grated parmesan cheese.
• Add grilled chicken Reg $4.00 / Party $11.00
$9.95
$23.95
Mixed Green Salad
Regular
Party
Mixed greens, petit carrots, grape tomatoes and seasonal items
• Add grilled chicken Reg $4.00 / Party $11.00
$9.95
$23.95
Side of Pepperoncini / Jalapeño

$1.35



Seal Beach
Any two slice and a drink
Now Gluten Free Slices Available
If you like the bear or wine options or a bigger Menu please Join us at our Huntington Beach location.

Only 4 miles away.